Virtual ESU-ESUT-ESUI Masterclass on Focal therapy for localised prostate cancer
Focal Therapy (FT) is a promising treatment option aimed at improving the management of localised prostate cancer.
This masterclass will provide you with an extensive review of the rationale for FT, the patient selection modalities and the available
energy sources (HIFU, Cryo, IRE, Laser, Brachytherapy). Gain further knowledge and better understand the FT benefits.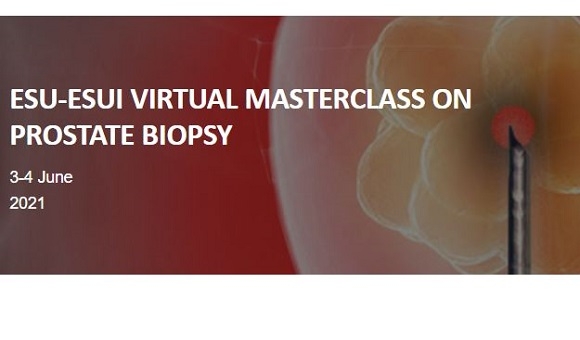 ESU-ESUI Virtual masterclass on prostate biopsy
Organised by the European School of Urology (ESU) and and the EAU Section of Urological Imaging (ESUI) this masterclass delivers vital updates on how to perform prostate biopsy and achieve optimal results.
You can expect in-depth coverage of the technical potential and limitations of prostate biopsy and MRI imaging.
ASCO Annual Online Meeting 2021
The 2021 ASCO Annual Meeting will be an online only experience, June 4-8, 2021. ASCO's robust scientific and education programs will be held simultaneously June 4-8. Our meeting platform will provide attendees with live and on-demand access to top caliber scientific research presentations and slides.
ESU-ESUT-ERUS Virtual Masterclass on partial nephrectomy
Enrich your knowledge on partial nephrectomy (PN) for the management of renal tumours. Explore the latest advancements (e.g. indication, planning, surgical approaches and intraoperative tools) that allow the realisation of precision surgery for maximisation of oncological and functional results.
Réunion éthique et économie
BAU 2021
The Belgian Association of Urology Congress will take place in the Hilton Antwerpen and is organised by the BVU.
Info & registrations on www.urobelgica.be.